Flyin' High
That's right, if you look up in the sky the Philadelphia Eagles are definitely flying high! After a close scoring game with the New England Patriots consistently catching up, the Eagles were able to hold the lead winning 41-33.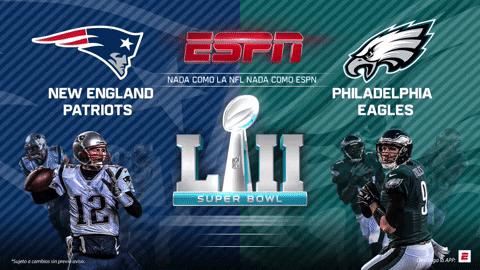 Backup QB Nick Foles performance was the only thing we were impressed with. Not only did he step up to the plate when Carson Wentz tore his ACL in December, throwing 237 yards and 4 touchdowns in his first game, but during the NBC pregame special, we learned that Nick and his wife overcame many hardships to get to where they are now. Foles wife was diagnosed with Postural Orthostatic Tachycardia Syndrome and later Lyme Disease. In the documentary special, Foles shared there was a point in his life when he was about to give up football because of everything going on in his wife's life, but her and his family helped him see the light to continue.
Well, Foles definitely more than continued with his football career, now the ninth backup QB to win the Super Bowl title!
Justin Timberlake
The halftime show at the Super Bowl is a pretty anticipated part of the event. For the second time, Justin Timberlake took to the stage to perform hits from his career. Hands down the best part was when he performed his hit song, Mirrors. He ended the performance with a tribute to Prince. While some people loved the tribute, there was a majority of people who criticised JT for this tribute.
Dip It Real Good
Having hosted a Super Bowl on Sunday, both of us learned that dip is absolutely one of the best things you can bring. Although we surprisingly did not have two of the same dips, we an excessive amount of chips and pita to fill us up. When in doubt dip it out!
Our dip selection from Sunday included:
BBQ Chicken Spinach Artichoke Dip
Red Pepper Sausage Dip
Layered Nacho Dip
Buffalo Cheese Dip
Garlic Hummus
Swiss Cheese Fondue
to conclude our segment on dip we decided to do a BuzzFeed quiz called, "Dip These Foods In Sauces And We'll Reveal A Beautiful Truth About You."
https://www.buzzfeed.com/perpetua/dip-these-foods-in-sauce?utm_term=.movmOP2VM#.xtZ4nmp90
There's (Finally) a Baby Out of the Kardashian Oven
While the Eagles took home the Superbowl trophy, it was Kylie Jenner who really won the Superbowl by announcing the birth of her daughter earlier on Sunday. She apologized to her fans for keeping it a secret but she also released a youtube video capturing moments from her pregnancy.
It seems like Kendall is the only one who isn't rushing to start a family or maybe she is hiding a pregnancy as well?
When In Doubt, Look it Up
Steffy Wap should probably start spending more time on her readings and less time typing words into Urban Dictionary. In all honesty, if you have not typed your name into Urban Dictionary take five minutes and do it. You honestly will laugh so hard.
Two of 2018's biggest hits so far have been God's Plan by Drake and Finesse (Remix) by Bruno Mars ft. Cardi B. Both these bangers have Steffy Wap and Champagne Tiny singing along, but they can't help but wonder what is a "broski" and where the hell did "finesse" come from.
According to Urban Dictionary:
"A broski is the top of the social food chain. By having connections with broskis, you will open up more doors to the future than ever before. A broski is the highest rank of friend, therefore allowing more things to be done without worrying about outside judgment. If someone questions you say, "Nah, we're just broskis." They'll know."
"Finesse is the unique ability to maneuver seamlessly around people or objects in a smooth manner. For example, Stephen Curry does a crossover defender and lays up ball*
Me: OOOoooo he had some finesse with that crossover!"
Guess we can start using broski and finesse in our everyday vocabulary now that we know the meanings!
Be sure to tune in next week for a Valentine's Day special and a feature on the soon to be birthday gal: Rhianna.
Stay Golden!
Song List:
Filthy by Justin Timberlake
I Got this feeling by Justin Timberlake
Mirrors by Justin Timberlake
Cry Me a River by Justin Timberlake
Rock Your Body by Justin Timberlake
Tearin' Up My Heart by 'NSYNC
Enchanted by Taylor Swift
Love Story by Taylor Swift
Body by Loud Luxury
I Feel Like I'm Drowning by Two Feet
Before He Cheats by Carrie Underwood
Hot Girl by Belly (ft. Snoop Dogg)
Move Along by The All-American Rejects
Boulevard of Broken Dream by Green Day
Find Your Love by Drake