Greetings Golden Hawks, the weather is so unpredictable these days that DJ Steffy Wap and DJ Champagne Tiny have decided that it is officially cold. It is time to whip up some hot chocolate and listen to tunes that put you in the right mood for cuddling up next to a fire (or a heater… #studentlife).
This past week was pretty relaxing for both of us. While Steffy Wap got some zzz's and caught up with school work, Champagne Tiny headed home to spend some time with her family. Champagne Tiny FINALLY watched Thor: Ragnarok and completely loved it!
#JELENA
It became pretty clear over the past week that Selena Gomez and Justin Bieber might just be back together after a picture surfaced on the internet of her kissing Justin at his hockey game. Safe to say Champagne Tiny isn't too ecstatic about this reunion but the heart wants what it wants right?
Sexiest Man Alive
To sum up a tweet "Did everyone else die?"
Blake Shelton was named the Sexiest Man Alive for 2017 by the People's magazine and people are not really having it. Tbh there are a lot more people that fit the 'sexy' label more than Blake. Especially taking on the title after Dwayne Johnson, it is a huge let down. He may have a hot dad bod thing going on but not a lot of people find it sexy. According to us, Idris Elba or even Sir Patrick Stewart would be great picks for this title.
Elephants are Friends, Not Trophies
Since Donald Trump was elected President he has been a part of many headlines which are not necessarily related to the betterment of the country. The most recent being him first announcing to lift the hunting ban on elephants and people being allowed to import them as hunting trophies into the States. This announcement was met with an uproar from the American citizens which led to Trump deciding to keep the ban in place.
Would you like fries with that?
If you know Steffy Wap, you are aware of her tendency to ask some very odd questions. Yesterday we learned that her go to question to men she is potentially interested in is "What's your favourite form of potato?" Steffy Wap opened up that she doesn't want "just a fries guy," rather she wants reason and excitement behind their potato selection. She also said "I'm okay if he loves fries because without a doubt they are delicious. He just better have a hella good reason other than they're yummy."
To support Steffy Wap's potato inquiry we looked up some fun facts about potatoes:
The potato flavor was first discovered by Spanish Conquistadors in 1536 in Peru
Potatoes are the fourth largest food crop
Idaho is the largest potato producer
Potatoes were the first vegetable to be grown in outer space
The White House was the first place to serve French Fries
Keeping it Green
One of Laurier Students' Unions largest committee is the EcoHawks. The EcoHawks are fellow Laurier students that promote sustainable practices on campus and in the KW area. Yesterday we had education and logistics members Michael Ngyuen and Brian Hay-Roe stop by the station to talk about the upcoming Holiday Pop Tab Drive and Tech 4 Treats event.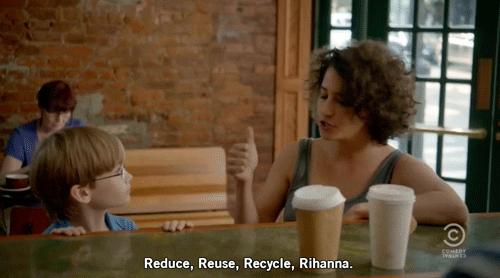 Q: Tell us about yourselves and how you got involved with EcoHawks?
Brian: I'm in business and I found out about EcoHawks from my roommate last year and sort of fell in love at first sight.
Michael: I'm also in third year business and as Brian was saying EcoHawks is one of those clubs I've always heard of on campus, people promoting, and heard good things. I realized recently with sustainability becoming a more important thing in the world decided that this year is the first year I'm going to do something about it and joined EcoHawks. Not only are you just having a good time at the meetings and events you are making an impact in the world.
Q: EcoHawks has 2 big events coming up, can you tell us more about them?
Michael: The first event coming up is the Holiday Pop Tab Drive. We will be promoting in the concourse this Wednesday. We are going to have boxes to drop your tabs off in the Concourse from November 23rd– December 1st. On 1st some of the EcoHawks will be doing a community pick up. All the tabs are supporting Elora Legion's Tabs for Wheelchairs program.
Brian: Tech 4 Treats is also coming up. If you bring your old technology, it's a recycling process where for example, you bring in an old broken phone or laptop and get baked goods. A little fun fact is that e-waste represents 2% of America's trash in landfills and over 70% of overall toxic waste.
Michael: The reason we are running is too promote awareness. We are talking about bigger things and people don't realize that when you throw away an old laptop it's not getting properly disposed.
Brian: Staples has a free recycling program for e-waste and on some occasions you can even exchange your old electronics for cash or in-store credit.
Michael: Best Buy also has a similar program for in-store credit and as Brian said, it's a win-win and you're getting something out of it so why wouldn't you do it?
Q: Is there a place our listeners can get more information about these events and EcoHawks in general?
Brian: Follow us on Facebook at Laurier EcoHawks, on Twitter @wlu_ecohawks and on Instagram @ecohawks_wlu.
Q: What else does EcoHawks have planned for the rest of the year?
Michael: One of the big events we have coming up is one of my favourite events is Lug a Mug. We have awesome travel mugs designed. You can come to the booth, win a mug and look awesome with your new travel mug. The dates for that is December 4th and 5th.
Brian: Also the Sustainability Fair coming up in March. For information for that will be coming up in the new calendar year.
We definitely had a blast with these boys in the studio and both Champagne Tiny and Steffy Wap are excited to trade in their e-waste for some scrumptious baked goods on Wednesday. With 12 Barz coming up next week don't forget to save those pop tabs and drop them off at one of the three on campus locations!
Be sure to tune in next Monday at 10 for our last show of 2017. Stay Golden!!
Song List:
The City – Ed Sheeran
What Do I Know – Ed Sheeran
Heart Out – The 1975
Tenerife Sea – Ed Sheeran
Burning – Sam Smith
Stubborn Love – The Lumineers
Sober – Selena Gomez
Silence – Marshmello, Khalid
She's American – The 1975
Start a Riot – BANNERS
Slow Hands – Niall Horan
Scars – Sam Smith
Pressure – The 1975
River and Roads – The Head & the Heart
No One's Gonna Love You – Band of Horses
Give Me Love – Ed Sheeran
Seeing Blind – Niall Horan, Maren Morris
Old Friends – Jasmine Thompson
Paris – The 1975
Beautiful People, Beautiful Problems – Lana Del Rey, Stevie Nicks
Find Your Love – Drake