On the second week of the The Morning Show, DJ Steffy Wap and DJ Champagne Tiny were back with another fun filled show! Topics for this week? How to get involved at Laurier featuring a special guest, a recap of the Emmy's and everyone's favourite, DJ Steffy Wap's Spoken Word Rap.
How to Get Involved at Laurier ft. Special Guest Courtney Collard
It's hiring week here at Laurier! Not sure what that means? Don't worry, we've got you covered. We interviewed Courtney Collard, a Laurier alumni and current VP of Finance and Administration with the Students' Union. Courtney has been highly involved at Laurier throughout her four years here. From House Council in her first year to teaching Group Exercise in the AC, to leading a Winter Carnival team, to becoming a Head Ice in her senior year, she is the go-to girl on-campus to learn more about ways to get involved!
During the interview, Courtney shared some amazing advice on how to prepare your application for all available positions at the Waterloo and the Brantford campuses. Here are some of the tips and tricks she gave us:
Use the STARR format!
If you are unfamiliar with the STARR format, it stands for Situation, Task, Actions, Result and Relate. All Laurier applications are based on the STARR format, and Courtney had some advice for our listeners regarding the applications, "Use most of your word count focusing on the Action and Relate part of the answer, that is what we look at when grading applications. Even if the situation led to an unsuccessful result, it is still a learning experience and it does not look bad whatsoever."
Here are the links to help you find clubs and positions you are interested in and a link to help you with your applications as well. You can always pop-in to the Students' Union office at any time, there are always fellow Golden Hawks there waiting to help you! Hiring is open until 3:00 p.m. on Thursday, September 21 at the Waterloo campus and until 3:00 p.m. on Friday, September 22 at the Brantford campus.
http://Hiring.yourstudentsunion.ca
http://Starr.yourstudentsunion.ca
Did you catch The Emmy's this weekend? 
To recap the Emmy's from this weekend, we saw Donald Glover take home an Emmy for Lead in a Comedy Series. Lena Waithe for Outstanding Writing for a Comedy Series, along with that we had Elizabeth Moss and Sterling Brown win for Lead Actress and Actor in a Drama series. Needless to say, it was a show that made Champagne Tiny really happy as all her favorites took home Emmy's for their work.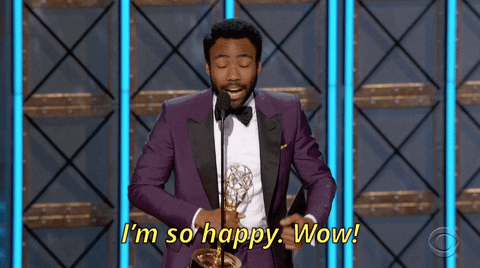 Steffy Wap was excited to showcase her talent for Spoken Word Rap. This week she entertained us with HUMBLE by our very own Kendrick Lamar. She also enlightened Champagne Tiny on the evolution of burritos. From finding out that burritos means 'little donkey' to Fat Bastard taking the lead in everyone's favorite burrito place, we now can definitetly add burritos to the long list of comfort foods.
Don't forget to tweet us your suggestions, song requests and favorite memes to @RLMorningShow and we'll make sure to give you a shout out on the show!
Next week Steffy Wap is off to Utah and Champagne Tiny will be holding down the fort. Hope you all have a Golden week ahead!
Song list:
Hey Soul Sister – Train
I Don't Wanna Be- Gavin DeGraw
The Cure- Lady Gaga
Sk8er Boi – Avril Lavigne
More Than You Know – Axwell /\ Ingrosso
Knocking At The Door – The Arkells
Location – Khalid
Since U Been Gone – Kelly Clarkson
Signs – Drake
Crying In The Club – Camilla Cabello
Get The Party Started – P!nk
What's My Name – Rihanna ft. Drake
All Night – Icona Pop
Sugar We're Going Down – Fall Out Boy
Paradise City – Guns N Roses