It is evident by now that DJ Champagne Tiny and DJ Steffy Wap are best friends. So it is definitely not surprising to hear that when Steffy Wap had to miss the first hour of the show, Champagne Tiny played only acoustic covers to mask her sadness.
However, we are happy to report Steffy Wap and Champagne Tiny were reunited at 11 am yesterday and the vibes in the studio were nothing but happy.
And the Oscar Goes to….
The past weekend was the 90th Oscars Award Ceremony and all the stars SLAYED the red carpet. The Black Panther cast looked amazing as they represented Wakanda. There were tons of good and not so good moments at the Oscars and you can catch a recap of them here: https://www.nytimes.com/2018/03/05/movies/oscars-2018-highlights-recap.html
Jordan Peele made history by becoming the first African American to take home the Oscar for Best Cinematography while Gary Oldman won Best Actor for The Darkest Hour. Here is a full list of the winners:
https://www.nytimes.com/2018/03/04/arts/oscar-winners.html
Fun Fact: Steffy Wap's Uncle, John Kapelos, was part of the crew for Best Motion Picture Shape of Water. He played the role of Mr. Arzoumanian.
For Champagne Tiny the best part of the night had to be when Meryl Streep recreated the meme from last year's Oscars.
Chrissy said WHAT!?!?
Chrissy Teigen is hands down one of the most out-spoken and funniest celebrities out there. She does not care to censor her social media which only makes it so much more precious. Champagne Tiny decided to read some of her tweets on air.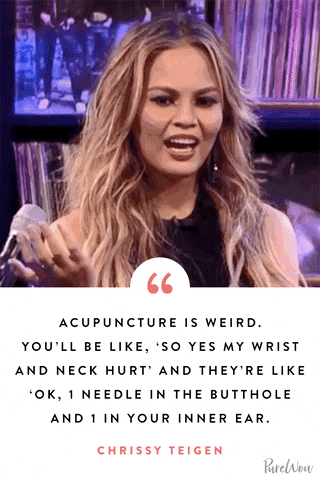 Celebrate. Remember. Fight Back.
This week in the studio, we had WLU Relay for Life Luminary Chair, Kaitlin Brown, come and talk to us about the amazing event is pajama themed and will take place this Saturday, March 10th from 7pm-7am in the Science Building. We sat down with Kaitlin and asked her some questions about how to get involved with Relay for life as a volunteer, donor or participant, as well as a little bit about Kaitlin herself!
Q: Why did you get involved with Relay for Life?
This year will be my fifth 5th Relay. I started back in high school. And I relay for everyone who has lost a loved one to cancer or who has fought to continue to fight a battle. Cancer touches everyone and feel passionate about Relaying for a better tomorrow
Q: What is Relay for Life and when is it happening on campus?
Relay for Life is on Saturday March 10th from 7am until 7pm. It's a 12 hour event where we walk the track around the Science Atrium raising money and awareness for cancer patients fights. Everyone is welcome at the event, not just Laurier students. They just have to follow the WLU Code of Conduct, but everyone is definitely welcome!
Q: How has your experience changed since participating in high school?
Not that high school was more generic, but coming to university when you walk around the luminary track you definitely see that more people in university are relaying for their parents and I think that hits a little bit harder as to why we relay.
Q: What type of events or activities will be happening at the event?
This year similar to last we have the usual interactive games like Minute to Win It. We also have Trivia this year which should be a lot of fun!
Q: Cancer is a disease that touches almost every single person. Personally, how has cancer touched you?
Cancer has touched me in a way that my grandparents have all fought a battle with cancer. It's definitely something that I feel passionate about and it's also something that the Relay committee is so passionate about. They are such an amazing group of people to work with and they all have a really great story about why the Relay.
Q: We have seen through advertising and being involved with Relay for Life ourselves that the three words Relay for Life advocates is "Celebrate. Remember. Fight Back." How does Laurier's event commemorate these three words?
"Celebrate. Remember. Fight Back." is an amazing motto for the Canadian Cancer Society and especially Relay for Life. Celebrating means supporting or friends, supporting our family and really celebrating those who have won't heir battle with cancer. Remembering, so you can make a luminary and the event and are able to reflect on why we relay. Also fighting back; we do have speakers at the event who will be sharing their perspectives and their stories which are usually very eye-opening. This year we have speakers who perhaps their parents have been through something or a sibling.
This year's goal for WLU Relay for Life is $35,000 and have 105 participants registered so far. Although the due for signing up with a team has passed, the organizing committee is always looking for more volunteers to help with event set-up, registration, entertainment help and clean-up. Be sure to contact relayforlifelaurier@gmail.com if that is something you are interested.
In the meantime donate!! It is an amazing cause and anything over $25 gets you a tax receipt.
Here's the link: http://convio.cancer.ca/site/TR?fr_id=23497&pg=pfind
Song List
Rather be – Jasmine Thompson
Drag me down/as long as you love me – gardener sisters
Send my love to your new lover – I'm with her, Paul Kowert
Summertime sadness – Megan Davies
One dance/needed me/too good – Megan Davies, Jaclyn Davies
See you again, love me like you do, sugar – Megan Davies
Apologize- Kacey Musgraves
Sorry – Colin and Caroline
My love/hotline bling – gardener sisters
Titanium – Boyce Avenue
Despacito – Madilyn Bailey, Leroy Sanchez
Boom clap – Lennon and Maisy
Mr. bright side – Run River North
Teenage dirtbag – Walk off the Earth
I took a pill in Ibiza – Mike Posner
Shake it off – William Singe
Steal my girl – Hearts and Colors
Out of the woods – Savannah Outen
I wanna dance with somebody – Rachel brown
I kissed a girl – William Fitzsimmons
Shut up and dance – Anchor + Blood
Halo – Lotte Kestner
Hold on, we're going home – Yuna