All DJ Steffy Wap wants to do is wear converse. Unfortunately, this weather is not complying with her dream and she is stuck wearing chunky winter boots. We think the snow coming back might have something to do with Canada welcoming DJ Champagne Tiny into the Great White North because today she is officially becoming a legal Canadian citizen!!!
**cue maple syrup shots and celebratory hockey horn
Whether Steffy Wap can wear her converse regularly is still a mystery needing to be determined, but for now she and Champagne Tiny bundled up in the studio for another week of The Morning After.
Vote.
That's all… VOTE.
Students' Union elections are taking place TODAY until Thursday and WLUSP elections until Friday.
It takes 2 minutes.
Please vote!
They Gon' Think I Won a Grammy
The 60th Grammy Awards Ceremony took place this past Sunday night. The night saw the artists reflect on mental health, assault accusations, and the #TIMESUP movement through their performances. Bruno Mars took home the Grammy for Best Song, Record of the Year and Album of the Year. Even Bob Marley's son Damian and Shakira ended the night as winners! Check out the extended list of winners here.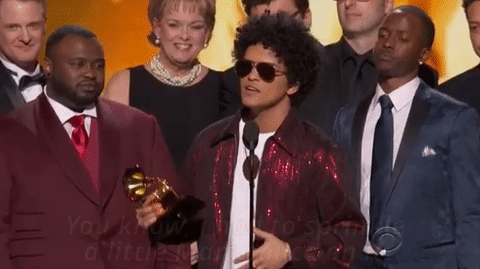 Get Your Thrive On
Once again, thrive week is BACK and with #BellLetsTalk week being this Wednesday there are so many initiatives on campus promoting wellness and positive mental health. Back in October we had Group Exercise Coordinator, Gillian, speak to us about what Thrive week is and the importance of feeling "whole." She said that wellness is not just the body feeling healthy; it is a connection and feeling of peace and wholeness between mind and body.
Once again Golden Hawk Recreation and the Student Wellness Centre have decided to pair up for another amazing week. Steffy Wap told us that on Thursday all Group Exercise classes are free. She also told us that she expects to see all her listeners filling the bikes in her 7am cyclefit class! Champagne Tiny said her presence that early was "to be determined."
In addition, yesterday there was a smoothie bar, fruit and trail mix station in the Athletic Complex with free yoga happening tonight at 5pm in the MPR. For #BellLetsTalk Day on January 31st, Bridging the Gap and the Wellness Centre will be unveiling a "Friendship Bench" in Paul Martin Centre from 12-1pm. All day, students will also be staring stories about what mental health means to them in the lobby of the AC.
You are all amazing people and you all deserve to thrive. Laurier has an incredible week of positive wellness events so be sure to attend what you can. Don't forget to tweet, text, Instagram, and Facebook post using the #BellLetsTalk all day Wednesday.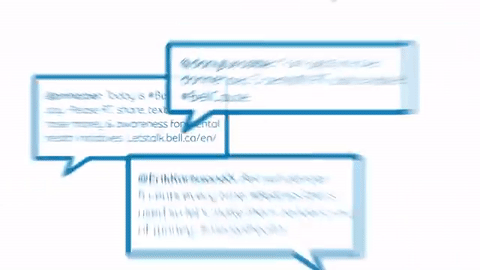 Feel the Beat from the Tangerine
Wait what? What tangerine has a beat? We're pretty sure the words are "feel the beat from the tambourine" from ABBA's Dancing Queen.
Speaking of tambourine, one of the funniest things for Champagne Tiny is looking up mis-heard lyrics. The most popular one being "All the lonely Starbucks lovers" from Taylor Swift's Blank Space. It's funny how we hear things incorrectly but continue to sing the song at the top of our lungs until one day someone finally corrects us.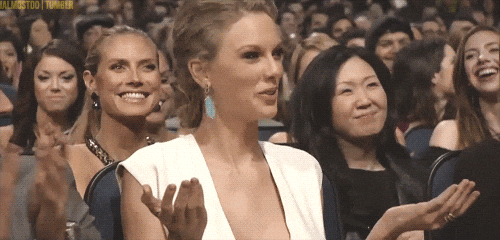 The (Animal) Weather Channel
By now you probably know that Steffy Wap can be a little "odd at times" (to say the least). She is so excited because not only is her favourite holiday on Friday this year but it is also this week… GROUNDHOG DAY!
To support Steffy Wap, we decided to dedicate a large part of our show to this random holiday that always shows up in our calendars yet has no direct effect on our lives or job wages.
99% of you probably didn't know that Groundhog Day originated in Punxsutawney, Pennsylvania. German settlers arrived on the land in the 1700s and brought a tradition called "Candlemas Day" which was a celebration halfway between Winter Solstice and Spring Equinox. On this day, they would light a candle in the window of every home.
This day just happened to be February 2nd and eventually in the 1800s some of the citizens claimed that if an animal popped out of his sleep and saw his shadow, there would be another six weeks of winter. At first the Germans relied on a badger, but then it became a tradition that this animal was a Groundhog because obviously they are MUCH cooler. It's kind of funny to think of all these people relying on the decision of an animal to predict their weather. Like what if the groundhog woke up and was thought "I'm just going to mess with these people today and not wake up?"
Best meteorologist job EVER.
Also, how many animals can say they have a holiday named after them!? Groundhogs are for sure living their best life!
For pure amusement, we also decided to look up some groundhog jokes. Both Steffy Wap and Champagne Tiny laughed way harder than the jokes intended.
What happened when the groundhog met the dogcatcher?… He became a pound hog!
What do you call a groundhog who eats too much?… A roundhog
What would you get if you crossed February 2 with a Christmas drink?… Ground Nog Day!
Well, be sure to catch Wiarton Willie on TV Friday morning to see if we are stuck with six more weeks of dreadful winter or going straight into spring showers. All music this week were songs nominated for the 2018 Grammy's, except for our usual farewell song, but that was nominated in 2011 so still counts right!?
Until next week – stay golden!
Song List:
Despacito by Luis Fonsi, Daddy Yankee, Justin Bieber
Broken Halos by Chris Stapleton
Million Reasons by Lady Gaga
How Far I'll Go (From "Moana") by Alessia Cara
by Kendrick Lamar (ft. Zacari)
Shape of You by Ed Sheeran
Location by Khalid
Feel it Still by Portugal
You Look Good by Lady Antabellum
Slide by Calvin Harris (ft. Migos & Frank Ocean)
What About Us by P!nk
I Feel it Coming by The Weeknd
Lust For Life by Lana Del Rey, The Weeknd
Strangers by Halsey, Lauren Jauregui
Have Some Love by Childish Gambino
City of Stars (From "LaLa Land") by Ryan Gosling and Emma Stone
Run by Foo Fighters
Find Your Love by Drake