Well Golden Hawks, this is our last hello of the semester and DJ Mack and I are feelin a little down, but, not to fear, we will be back next year! For our last session of the year we decided to talk about our family dynamics on Easter and explore some of those elsewhere in the world. Also, DJ Mack, the beauty she is, took on the challenge of shotgunning this week for our try, and we talked about some ways to de-stress this exam season with our Laurier event as one of them. Be sure to head on down to the end of the blog to find our final playlist, a mashup of some of our favourite songs of the year.
How Do You Easter?
As Easter weekend falls upon us we wanted to see the differences between how families spend their Easters. In comparison, Mack and I have some similarities, like an annual egg hunt and delicious dinner, and some differences, like amount of family members attending and the meaning of Easter. However, neither of our Easter traditions came close to those of Spain, as theirs is full of skeleton dancing and the temporary freedom of imprisoned citizens. Nonetheless, we are both thrilled for a weekend at home and wish all of you the best of Easters!
Try of the Week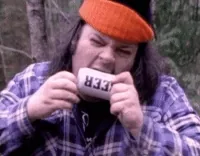 Oh boy did I love this try, this week Mack was faced with trying the ever so popular shotgun, a fast way to consume any canned alcoholic beverage. Now, since this was her first, we had to put on the training wheels and use a ginger-ale, but man did Mack murder this try! To say the least, the ginger-ale stood no chance against Mack's new found shotgun skills as she crushed it in seconds, cheers to the end of a great year and to the beginning of more shotguns for her!
Laurier Event
Ah exam season, do we ever dread you. Since exams are quickly approaching we decided to bring back an event of the past, chillin with dogs. If anything can de-stress our study filled brains it has to be a good boy, and you can find a bunch of good boys at the Delton Glebe Counselling Centre on 177 Albert Street, Waterloo. This event runs from 12 pm to 1 pm and falls on Wednesday, April 4th, be sure to head out and have some down time with some pups!!
The Finale
What a sad finale this is, from both DJ Mack and I we thank all who listed and read, and can't wait to return better than ever next year. We wish everyone the best of luck throughout these tough final weeks and, the best part, an amazing summer filled with memories made and good times had! Thanks again hawks, and don't forget to check out our packed playlist, featuring new and old music from many genres, and of course the featured video below which is Jadu Heart's Galaxy Surfing, a bonus song to this weeks playlist as it's music video is just stunning.
The Playlist
Trouble on My Mind – Pusha T ft. Tyler the Creator 
I Was Never There – The Weeknd 
Tennis Court (Flume Remix) – Lorde