Hey guys, hope everyone is having a great day so far! Another amazing show today, I was fortunate enough to play a bunch of my favourite 70's songs, especially some Pink Floyd later on in the show.
For this one, we have to go back…..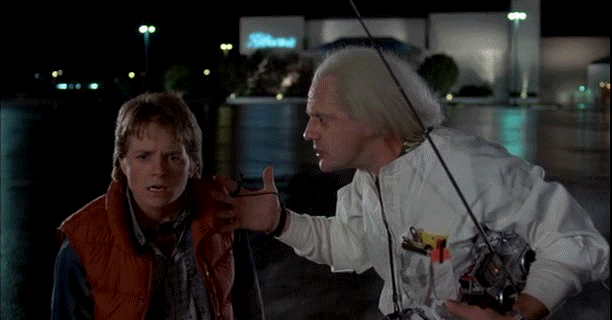 Bad reference. Sorry.
---
This Week In Music…
Theres really not that much happening this week, I've only got a couple things here
Lead singer of Avenged Sevenfold, M. Shadows said in an interview that he cant see Mike Shinoda not wanting to continue with Linkin Park.
"They're human beings and they have a long life to live. And I think if they love music this much, they have every right to move forward," said Shadows, adding, "Knowing Mike as well as I do, he's always been, in my opinion, the leader of that band — the guy who gets things going, the guy who gets demos going, the guy who obsesses over every detail of that band."

"I just can't see him letting that go. I don't think it's possible and I think it would be a shame if he did."
Frank Turner, Gary Moore, and Noel Gallagher all have new music this week.
And seriously that's about it.
---
Music History
This week we covered Pink Floyd in this version of Music History, detailing their rise to fame since 1965. The original lineup consisted of Syd Barrett, Roger Waters, Nick Mason, and Richard Wright. When frontman Barrett became mentally unstable due to the use of LSD, he was replaced by his old friend, David Gilmour. This came following the success of their first album, Piper at the Gates of Dawn.
Next, the band (now lead by Waters), released A Saucerful of Secrets, More, Ummagumma, Atom Heart Mother, Obscured by Clouds, and Meddle in the course of 1968-1972. Meddle would be the album that truly differentiated the new and progressive Pink Floyd, from Barrett's style of Pink Floyd. Reaffirming this notion was the band's greatest endeavor to date; Dark Side of the Moon. The album's lyrics were written solely by Waters, yet the actual composition of the album was a collective band effort, with assistance from producer Alan Parsons.
The next few albums would reaffirm the notion that Waters truly believed he was Pink Floyd. Wish You Were Here, Animals, The Wall, and The Final Cut were all largely Roger Waters' solo projects. All of the writing would be done by the bassist, and Richard Wright was even asked to leave the band for lack of contribution following The Wall. Following a lawsuit in 1985 in which Waters tried to dissolve the band (it was a "spent force, creatively"), the other members won, and carried on using the band name. During this period, Wright rejoined the band, and the trio recorded A Momentary Lapse of Reason and The Division Bell.
The four members would get back together once in 2005 for charity, performing four songs. Barrett died in 2006 after being away from the limelight for almost 35 years, and Richard Wright passed away in 2008 from cancer. Pink Floyd (sans Waters) released The Endless River in 2014, in honour of the band, and of Wright.
Pink Floyd released 15 studio albums, 3 live albums, 2 compilations, and 4 box sets, with 27 singles. The group has sold more than 250 million records worldwide, and Dark Side sits at #3 in the best selling albums of all time in the world.
---
Heavy Hitter
Featured this week was Black Sabbath with the classic tune War Pigs/Luke's Wall. 
---
Band of the Week
Band of the week goes to Led Zeppelin this time around, with two of my favourite tunes from Zeppelin IV, Going to California and Rock and Roll.
---
Double Shot
AC/DC wins this weeks Double Shot slot, with two of their biggest hits in the pre-Brian Johnson era- Whole Lotta Rosie and Dirty Deeds Done Dirt Cheap.
---
It was fun throwing it back this week. Hope everyone has a great week!
ZZ Top –

La Grange

Rush –

Closer to the Heart

Neil Young, Crazy Horse –

My My, Hey Hey (Out of the Blue)

Beatles –

Get Back

Eagles –

Peaceful, Easy Feeling

Fleetwood Mac –

Dreams

AC/DC – Whole Lotta Rosie
AC/DC – Dirty Deeds Done Dirt Cheap

Black Sabbath –

War Pigs/Luke's Wall

Foreigner – Cold as Ice

Pink Floyd –

One of These Days

Pink Floyd –

Time

Pink Floyd –

Happiest Days of Our Lives

Pink Floyd –

Another Brick in the Wall

Boston –

Foreplay/Longtime

Dire Straits –

Sultans of Swing

Led Zeppelin – Rock and Roll
Led Zeppelin – Going to California

The Who

–

Baba O'Riley

Supertramp –

Goodbye Stranger

Joe Walsh – Life's Been Good

Queen –

You're My Best Friend
From Big Sugar at Maxwell's.