Going to sum up how I feel right now in a gif….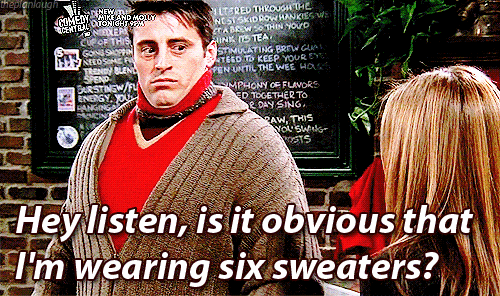 It's crazy how we can go from having overheating in the studio less than a month ago, and then a few days ago I'm freezing and wearing multiple layers.
Not cool Canada. Not cool.
Had a great show this week in consequence of it being my 19th birthday tomorrow, therefore I figured I would celebrate with my favourite songs. A few repeats from previous shows, but that's alright.
---
This Week In Music…
ZZ Top's Billy Gibbons joined Guns 'n' Roses in a performance of Patience this past week, joining the Gunners' multiple guests stars this year including Angus Young and singer P!NK.
Original Faith No More singer Chuck Mosley passed away this week from addiction at the age of 57, adding to the list of great rockers we have lost this year.
36 years ago, Motley Crue released  their debut album, Too Fast for Love.
New Taylor Swift, Morrissey, Bastille, Keith Urban, Childish Gambino, Elton John, Evanescence, and Greta van Fleet.
A new Stone Temple Pilots singer will be announced later on tomorrow, so be excited for that, I'm sure they will be great.
---
Music History
The Lumineers are an American folk/rock band based out of Denver, Colorado, formed in 2002 by singer/guitarist Wesley Schultz and Jeremiah Fraitz on drums and piano, and Neyla Pekarek was also an addition in 2010 playing cello and singing.
The original duo began by playing covers of songs, but found no success until moving to Colorado in 2010, where they joined a smaller music scene. The band put out their first album in 2012 on independent record labels throughout the world, and broke out with their single Ho, Hey, taking the world by storm seemingly overnight.
Next, they would release their second studio album, Cleopatra, in 2016. This included hits like Ophelia, Cleopatra, and Angela.The band toured extensively, accompanying the likes of U2, Stevie Nicks, and Tom Petty in many performances, alongside their headlining shows
The band describe their music as "simple", where they don't try to "reinvent the wheel" per-say. It is music everyone can relate to and hum along to. Alongside the 3 permanent members, the band has two touring musicians who are multi instrumentalists.
---
Heavy Hitter
The Heavy Hitter this week goes to the one and only Metallica with a cover of Bob Seger's Turn The Page from the 1998 album, Garage Inc. This is (in my opinion), one of the greatest Metallica performances ever released, and I believe even compared to even their own songs, it may be their best song.
---
Band of the Week
This week's Band of the Week goes to the Eagles, with my favourite tunes, Desperado, and Already Gone. These songs just make me so happy, and they are some of my favourite tunes to belt out. Love me some Eagles.
---
Double Shot
This week we played some Linkin Park for the Double Shot, and I took my selections from their 2010 album, A Thousand Suns. The Catalyst and Waiting for the End are two of my favourite Linkin Park songs. More than likely I'll have some of the lyrics from Waiting for the End tattooed at some point, as it is the song that means the absolute most to be aside from Everlong and Wish You Were Here. Moreover, it will help me remember one of my heroes. Also I just realized that I did infact play both of these songs during my Linkin Park show. Woops.
---
Thanks for listening and/or reading. This was a fun one. Take care!
Dave van Ronk –

Hang Me, Oh Hang Me

(3:08)

Oscar Isaac, Marcus Mumford –

Fare Thee Well

(Dink's Song) (3:00)

Pearl Jam –

Sirens

(5:40)

Bon Iver –

Skinny Love

(3:59)

+44 –

Baby Come On

(2:46)

Box Car Racer –

Letters to God

(3:16)

Linkin Park –

The Catalyst

(5:40)

Linkin Park –

Waiting for the End

(3:52)

Lights –

February Air

(3:51)

Iron & Wine –

Naked as We Came

 (2:33)

Blink-182 –

Kaleidoscope

(3:53)

Lumineers –

Submarines (

2:43)

Lumineers –

Dead Sea

(4:08)

Lumineers –

Flowers in Your Hair

(1:51)

Lynyrd Skynyrd –

Tuesday's Gone

(7:30)

Pink Floyd –

Wish You Were Here

(5:35)

Bob Dylan –

Girl From the North Country

(3:20)

The Eagles –

Already Gone

(4:15)

Eagles –

Desperado

(3:34)

Metallica –

Turn The Page

(6:06)

Candlebox –

Far Behind

(5:00)

Mac Demarco –  Chamber of Reflection (3:51)

Temple of the Dog –

Hunger Strike

(4:10)

Matthew Good Band – Apparitions (5:14)

Fleetwood Mac –

Landslide

(3:19)

Foo Fighters –

Everlong

(4:00)
Here's what the Lumineer's albums remind me of. Mom's home province of Newfoundland.